ARTIST SPOTLIGHT: Jeri Warhaftig
Page top image size: 1000 x 500 px
Jeri Warhaftig, New Jersey Artist
Jeri Warhaftig – Artist Statement – 2022
After a lifetime in pursuit of glass, I find myself an emerging artist at an advanced age. If there is a constant in my work, it is my tendency to change the expected appearance of my materials and to invoke from the viewer the question, "is that glass??" and the statement, "I've not seen that before." Where are the limits of glass? What level of stress can it endure to satisfy my pursuit of an aesthetic outcome? How do I shape glass to my will in an expression uniquely my own? I have explored these questions in glass through a journey that includes making, teaching, and writing about flameworked glass beads and glass sculpture, fusing, borosilicate glass chains, and, most recently, kiln casting. 
We each have the right to own who we are, and my singular personal focus in glass and in life is now directed toward discernment of who I am today.
Jeri Warhaftig is a lifelong New Jersey resident and glass artist, author, and teacher. Publications and gallery exhibitions across the country feature her glass art. To her credit, the New Jersey Arts Annual,* a unique series of exhibits highlighting the State's visual and performing artists, included her work twice by jurors from the New Jersey State Museum.
Since 2007, each president of the International Society of Glass Bead Makers (ISGB) has selected work by artists to reside in a permanent exhibition known as "The President's Collection" at the Corning Museum of Glass. Each president chooses work based on the artist's style, design, technique, aesthetics, and contribution to the ISGB and the glass community. The collection includes two of Jeri's beads.
Jeri is the author of two books on the craft of glass, the Glass Bead Workshop and Creating Glass Beads, both published by Lark. She is considered an expert in glass bead making, borosilicate glass chains, and intricate sandblasted designs. 
She is known for her innovative link shapes, the precision of her forms, and her recent use of dichroic finishes. Jeri's current body of work includes her cast glass boxes, which serve as a canvas for her coldworked imagery. She is also a prolific borosilicate glass chain artist making a wide array of chains in varying colors, sizes, and styles for necklaces. 
A chain she created featuring a fused glass cabochon and handmade sterling silver findings won first place in the juried jewelry category at the 2020 Pittsburgh Glass Center "Art on Fire" glass auction.
Jeri teaches both virtually and in person. Her primary areas of instruction include frit casting, bead making, and borosilicate chain making. She frequently offers webinars and teaches around the United States in glass schools and studios.
Instagram: @Jeri_NJ
Facebook: Jeri Warhaftig Glass Art
*The New Jersey Arts Annual is a unique series of exhibitions highlighting the State's visual and performing artists. In partnership with major museums around the State, one exhibition takes place each year, alternating between host institutions. These exhibits are open to artists currently living or working in New Jersey. The Arts Annual series is sponsored by the New Jersey State Council on the Arts, a partner agency of the National Endowment of the Arts.  
During a studio visit in March 2022, Jeri Warhaftig graciously demonstrated and narrated making a glass bead at a torch. This bead has inclusions of dichroic glass and a copper cut out of a dove.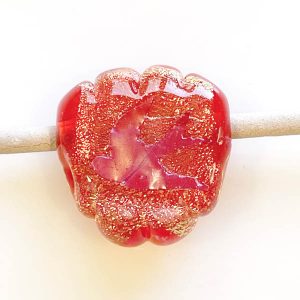 Above: Glowing hot glass demonstration bead, just before it goes into a kiln for a soak and a slow, controlled cool down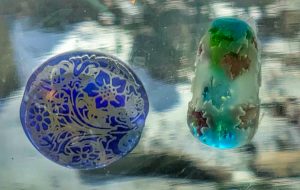 Above: Two detailed, examples of sandblasted glass beads
---
Back to Blog