Artist Spotlight: Terry Plasket
Page top image size: 1000 x 500 px
From the Artist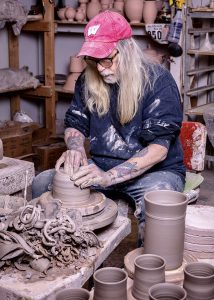 This year will mark 42 years of my tenure in the pottery at WheatonArts. Though I was introduced to salt glazing in college, it was here at WheatonArts that I have developed a line of work that has primarily been centered around the salt glaze process. For those who don't know what salt glazing is, I can describe the process. Instead of applying the glaze to the pottery and fusing it on in the kiln, salt glazing finishes are created by the firing process. When it is dry in an electric kiln to 1800 degrees in an electric kiln, I first fire the ware, which hardens the clay, but it remains porous, much like a terra cotta flower pot. In this stage, I usually put a liner glaze on the insides of my pots. Though the outsides could remain untreated, I usually hand-paint designs on them using powdered metals such as iron, cobalt, and titanium mixed with water which then soaks into porous clay. The pots are then loaded into our gas-fired salt kiln and heated a second time to 2350 degrees F, at which time we throw ordinary rock salt into the bottom of the kiln. At this temperature, the salt immediately vaporizes. Some of the sodium from the salt will react with the silica in the clay forming a textured transparent glaze over the entire surface of the pots. Salting the kiln takes about two hours, and then the kiln is shut down and allowed to cool naturally for two days.
In addition to the salt kiln, we have a gas fire reduction kiln where we apply glazes before the second firing and again heat to 2350 degrees F to vitrify the clay and melt the glazes to the surface of the clay. Twice a year, we try to fire our two-chambered Noborigama wood-fired kiln. This is one of my favorite ways to fire my pots but also the most laborious. The amount of prep work cutting and splitting all the wood and scheduling everyone to do their shift is a lot of work, but knowing this is a process that potters have done for thousands of years and one that I am carrying on is immensely rewarding.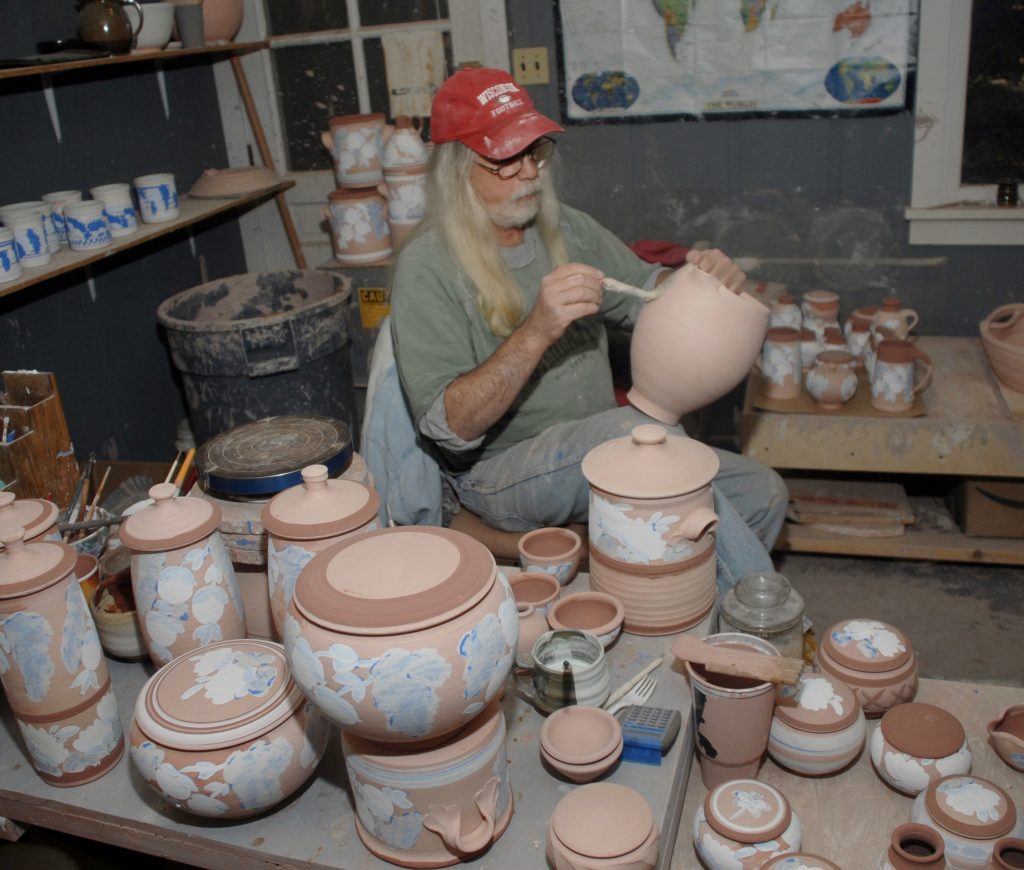 Much of my work is done using a stoneware clay mined in Western PA. For about the last year, I have migrated to using two other clays. My new body of work is formed using porcelain clay from California, which I first fire and then apply a thin layer of flashing slip, a thin layer of Kaolin, a clay mineral, and some feldspar to the outside of the pot. The Kaolin I use is from a stash of bags I got from Frank Wheaton's pottery factory in Millville after it closed in the '80s. After the flashing slip is applied, I fire the pots again to 1800 degrees F. to bond the slip to the porcelain. I then apply adhesive stencils to the pots that I create and cover the entire pot with liquid wax. After the wax dries, I remove the image and then apply a black underglaze over the pieces. Where the sticker was, the stain will soak in, and where then wax is the water-based colorant will bead up. I could remove all these stain beads, but I choose to leave them as they form a mottled background for the design, which I like. The pots are then fired in the salt kiln, which coats them with a transparent glaze, and whereas the porcelain would typically be white, the flashing slip forms various shades of brown and orange, creating a unique piece of pottery. Sometimes the pots may come out with a little dryer finish than I like, and I will then refire them a fourth time in my gas kiln, bringing out a glossier finish on the pots.
The second clay I have been using a lot of is a local clay from the site of Northeast Precast company bordering on Route 55 in Vineland, NJ. The owners, the Ruga family permitted me to mine clay on the site, and they graciously delivered like 20 tons of it behind our studio by the kilns. Potters refer to clay being mined locally like this as 'Wild' clay. We have to do some processing to the clay, which is labor-intensive but again, the rewarding aspect of using it outweighs the effort. I have found it to work best in our gas-fired glaze kiln and even more so in our woodfire kiln. Using local clay and firing it with local wood is such a primal process that creates a unique WheatonArts kind of ware. Though we have been experimenting with the clay and refining it for about two years, I feel like we still have a lot to learn about this clay body and its possibilities. It is an absolute joy to throw this clay on the potter's wheel.
[See the video as 
Terry Plasket discusses the process of prospecting, processing, and firing local wild "Ruga" clay.]
Terry Plasket, Artist Bio
I attended Jacksonville University in Florida for six years and then Glassboro State College (Rowan University) for two years before becoming a member of the WheatonArts community in 1979. I have been a potter here for almost 42 years and have helped craft a dynamic first class pottery studio with three major kilns that serve my associates and numerous interns. Our studio is open to the public, so visitors can not only watch us work at our craft but have a personal interaction asking us any questions they may have. I produce a line of personal work firing in either a salt glaze kiln, a gas-fire, reduction glaze kiln, or in our two-chamber Noborigama style wood-fired kiln. All the ware I create is fired to over 2350 degrees F. and functional, food-safe, dishwasher safe, microwave safe, and oven-proof.
Visit our studio to connect in person or email me at tplasket@wheatonarts.org.
---
Back to Blog