Artist Spotlight: Marc Petrovic
Page top image size: 1000 x 500 px
Artist Introduction by Noele Alampi
Manager, The Gallery of Fine Craft
The work of glass artist Marc Petrovic is genuinely innovative and thought-provoking. Since 2014 I have had the pleasure of showing Marc's work in the Gallery. Among his many series, there are two that intrigue me the most.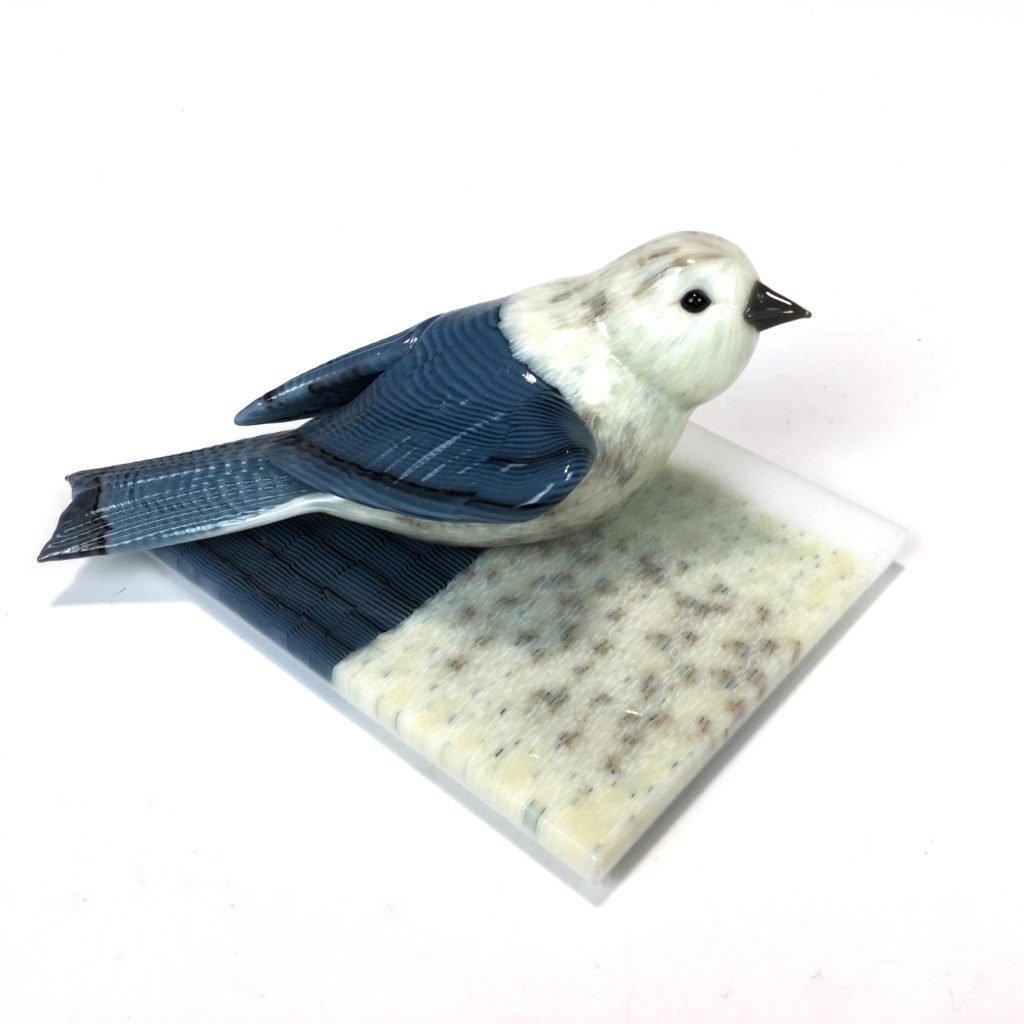 In the Avian Series, Marc pulls from his two-decade inspiration of bird imagery. Marc uses birds as a metaphor for his "rumination on relationships, parenting, home, shelter, and geographical identification." Not only is the imagery fascinating, but the technique is as well. Marc assembles and fuses his own murrini into abstract patterned tablets. He sees these tablets as "fully realized deconstructed birds." The birds then come to life through a process Mark calls hot origami. Their life-like faces and thoughtful eyes suggest an aware spirit that beckons the viewer closer.
Bottles are the focus of the Distilled Life Series. Marc uses bottles to "encapsulate, preserve and protect the ideas contained within." He shares that "within the confines of these bottles, my ideas can be distilled and developed." Even though the bottles' themes and subjects may vary, their heart remains steadfast: security, home, relationships, and identity. We can all relate to these themes now more than ever.
Marc Petrovic Artist Statement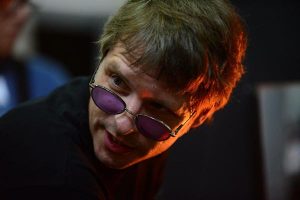 We are all navigators—travelers on our journey between waypoints. While it is important for us to live for the journey, I am aware that we mark our lives in moments, experiences, and events. As we travel, we gather what we need, or believe we need, along the way. We collect and accumulate what is important to us, and we decide what is of value and what to believe in. Each traveler is unique. While we all float in the same ocean, we live in our own little worlds. Our geography is encompassing and universal, but at the same time, individual.
As an artist, I return again and again to the same themes. I find, as the Greek philosopher Heraclitus suggested, "You cannot reenter the same river twice, for the river is always changing." I relish this constant yet infinitely varying source of inspiration. The themes of identity, geography, life cycles, and self-reflection—essentially, the human condition. The sense of identity formed through the journey of life is at the core of my work.
Glass is magical- but not magic. Until it is infused with an idea, a source, or an expression, my job as an artist is not complete.
Artist Bio 
Marc is a full-time artist who shares a studio in Cleveland, OH, with his wife and fellow glass artist, Kari Russell-Pool. His work can be seen in numerous private and public collections, including the Museum of Art and Design in NY, the Corning Museum of Glass, and the Tacoma Glass Museum in WA. Marc was a 2017 recipient of an Ohio Art Council Individual Excellence Award. Marc holds a BFA from the Cleveland Institute of Art- 1991.
"Hotseat" by Marc Petrovic.
Measures 11.75″ H x 5.5″ W
Distilled Life Series by Mark Petrovic
"Tinderbox" by Marc Petrovic.
Measures 14.5″ H x 5.5″ W
Distilled Life Series by Mark Petrovic.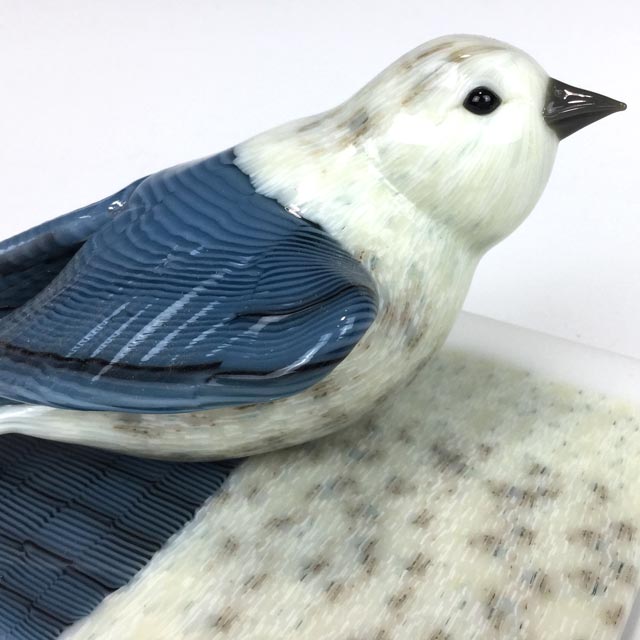 "Petite Avian Pair" by Marc Petrovic. Assembled and fused glass murrini in an abstract patterned tablet accented with a bird using Marc's "hot-origami" process. Signed and dated 2014.
Measures 6.5″ L x 5.5″ W
---
Back to Blog