Artist Spotlight: Amy Peseller
Page top image size: 1000 x 500 px
From the Artist
I like to say, quite simply, I am a potter. I fell in love with clay in high school. I was lucky enough to have a decent school, which provided classes in many art forms. I attended The University of the Arts in Philadelphia, earning a Bachelor's of Fine Arts degree in Ceramics. After graduation, it was time to learn what it meant to make clay a career and a life, so I drowned myself in experiences. That's what crafts are all about, right? Learning hands-on, I did internships and work exchange programs, one of which was, The Morean Arts Center for Clay (known back then as St. Pete Clay) in Florida. I spent months in North Carolina, helping artists wood firing their massive amazing kilns and assisting in their studios. I traveled to Japan, where I stayed in pottery towns with local artists, firing kilns and taking in the culture. I went to workshops, attended conventions, visited institutions, and met so many great people in the field. 
Originally, I am from Southern New Jersey. Being close to my family was important to me, so I always came back home. When I was a child, my elementary school took a couple of field trips to Wheaton Village (known then). As a visitor to Wheaton, you can enter the studios to watch and interact with the artists creating their work. It was there, at Wheaton as a child, that I saw a man named Terry Plasket, throwing a pot on the potter's wheel for the very first time. I turned to my mother and said, "that's what I want to do when I grow up." At the time, she chuckled at me. (Children say the darndest things.)
Today, I work for that man here at the Wheaton Arts pottery studio and have been for ten years now. I am a paid employee for the studio as the shop technician/manager and Terry Plasket's resident assistant. I do the daily wheel demonstrations to the visiting public, help run the shop, and create my own line of work, which I sell full time as my own business. I initiated an adult wheel throwing class at Wheaton called "Evenings with Amy." I also teach every other weekend. I honestly have it all. This fully-functioning studio provides me with a wood-burning kiln, large gas-fired kilns, all kinds of equipment and tools. In this space, I can be my most creative self with any needed materials for glazing and the opportunity to mine the local clay and create my own unique clay body from scratch. I sell my work in Wheaton's shops and galleries and their Craft Shows throughout the year. Wheaton also provides me with a place to live on campus as a resident artist. Do I work hard for all these benefits? You bet I do, above and beyond, blood, sweat and tears, and every inch of my time. When you love something, that's what you do. You give it your all. I have learned and grown so much in my life here, not just within myself but as an artist. I have my mentor Terry Plasket to thank for that.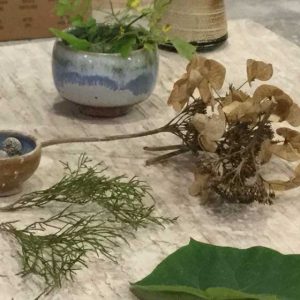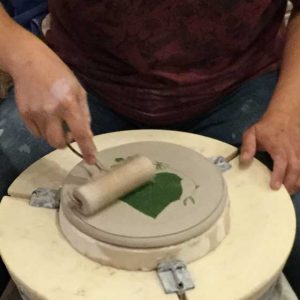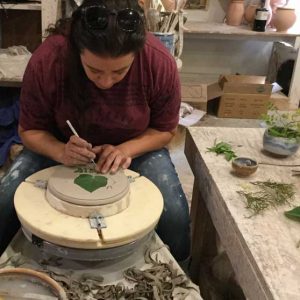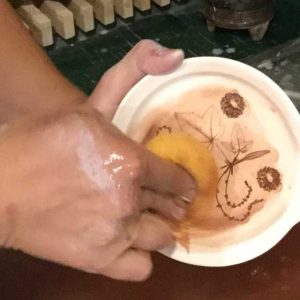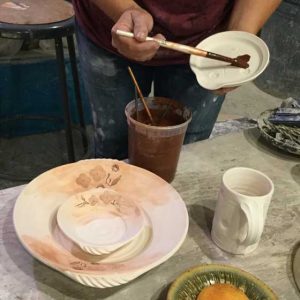 I make a full living as an artist in my own small business named Amy's Pottery. Over the years, I have developed a strong local following, giving me many repeating fans, who probably have too many of my mugs in their cabinets at this point. Other than custom-made orders, I have four reliable Craft Shows a year I sell my work in (on and off Wheaton campus), a couple of small retail shops I sell in, and I try to do a gallery show at least every couple of years. I am no longer a starving artist trying to find her way. I am there. 2019 was my very best year in sales of my work. When Coronavirus happened, my career took a mighty hit but, I am slowly climbing back out from those tough times, like many of my fellow artist companions—getting back to burning and turning and going home with clay on my pants again.
The body of work I am most known for are leaf-printed pieces. It is a process that adds many steps to the already long staircase of the pottery process, but I absolutely love it. Each piece is made with real leaves that I collect and roll directly into the clay when it is still quite moist. The leaves burn away in the kiln, leaving the print or fossil in the clay. Those prints then get stained and colored. There are other potters out there doing the leaf printing technique, but what makes what I do unique is in the composition of the leaf images. I lay out a painter's palette of different leaves and create each piece individually and intuitively. 
I derive an incredible amount of passion for what I do, not just in making the work but also in firing the pieces. Firing kilns is a world all its own that encompasses many techniques and really turns up the heat within me (pun intended). I have always loved high-temperature gas firing because of the depth and life it gives to the colors of my glazes. The extreme temperatures also ensure durability and functionality, which is very important to me. I also have developed a strong love for wood firing. Using wood to fuel the kiln forces you to stay connected and in tune with your work. It is not the same as turning on a burner and walking away, as wonderfully convenient as that is. The kiln truly comes alive. I love the simplicity of glazing my pieces for a wood firing. I often do not apply any coloring to the surface and rely purely on the wood and fire itself, licking and combusting alongside my pots, leaving earth tones and splattering ash from the wood burnt down. I hope my future continues to grow in the art of firing kilns.
I strive for many things when creating my work, but two things that are the most important to me are beauty and function when I break it down. I want my pots to look aesthetically pleasing, in color and form, and function excellently, and fit into your daily life. I believe my pieces seem beautiful in a quiet and straightforward kind of way. They are earthy in color, with greens and browns, and have soft line qualities. My pots often remind people of natural things they enjoy or loved ones that bring them happiness. I want my work to join your family at the table for the Thanksgiving feast or help you start your day with a warm cup of coffee in your favorite mug, which seems to have a handle fit just for you. There is so much beauty in the form: the balance of a pitcher spout to its handle, and how it pours. The matching curves of a sugar and creamer set that make them so perfect together. It's the little things that bring us the most joy, especially for this simple potter.

---
Back to Blog